200/220um Large Core Fibre Patchcords UV-VIS (High OH): 190 nm - 1250 nm
Solarization Resistant UV FIber is hydrogen infused to improve long-term attenuation stability at short UV wavelengths (190nm – 230nm). The fiber is the ideal choice for UV Spectroscopy, Lithography, Excimer Laser Systems and UV curing applications that use Deuterium Lamps or other UV sources below 230nm.

Applications:
• Laser Surgery
• Semiconductor Manufacturing
• UV Illumination
• Photo Initiated Chemistry
• UV Curing
• Analytical Instruments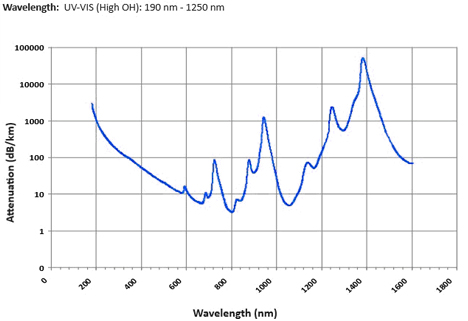 Configure your Multimode Patch cord:
The Multimode patch cords from the list below can be configured to suit your needs. Different jacket types, connector types, lengths and numerical aperture are available.

Multimode patch cord, solarization resistant, 200/220um MMF, 0.22NA, UV-VIS range Silic..
US$90.00

Multimode patch cord, SMA connector end1 and end2, 200/220um fiber MMF, 1m fiber length, 3mm loos..
US$90.00
Showing 1 to 2 of 2 (1 Pages)