CIR-3-13-343-8-1RU-TRY (1RU 19inch circulator rack)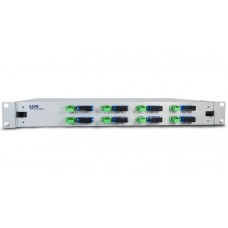 Product Code:
CIR-3-13-343-8-1RU-TRY
Availability:
1-2 weeks
Price: US$1,850.00

Description
1Ux19" rack loaded with 8x 1310nm circulators. Includes: 1.8x 1310nm circulators 2.1U SC adaptor panel fitted to front 3.All 8x circulators mounted onto clips inside rack 4.SC/PC connector pt1(Tx) and pt3(Rx), SC/APC connector pt2(Input/output)


Specifications:

http://www.afwtechnologies.com.au/circulator.html
Lead-Time:
For non-stocked items the lead-time is 1-2 weeks


Please note: product photos shown are samples only. Colours and styles may vary.
Prices are subject to change without notice.