FWDM-MM-1585-1-L-1-0-VR01 (MM filter WDM)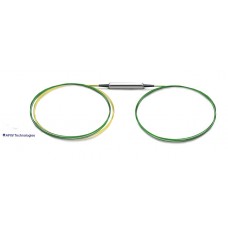 Product Code:
FWDM-MM-1585-1-L-1-0-VR01
Availability:
2
Price: US$120.00

Description
MM filter WDM, 1550nm pass/850nm reflect, 62.5/125um MM fiber, 900um loose tube jacket, 1m fiber length, no connector

Specifications:

http://www.afwtechnologies.com.au/mm_wdm.html
Lead-Time:
If this item is not in-stock the lead-time is 2-3 weeks.

This item is without connectors. We can supply this FWDM with connectors if required. The price per connector is USD8 for SC, LC, ST or FC connector types.
The lead-time for this item with connectors is 4-5 days based on the FWDM stock availability.
Before you check-out please let us know by email your connector requirement:

sales@afwtechnologies.com.au


Please note: product photos shown are samples only. Colours and styles may vary